"Caring for pets, and their people too."
COVID-19 Update
We have always placed the highest priority on being here for your pets when you need us the most.  We will continue to do that as long as possible.
The governor has allowed us to proceed with elective procedures as of May 1st, which includes all routine spays and neuters.  Urgent procedures are allowed, so we will continue to help your pets with anything that is causing discomfort or could worsen if treatment is delayed.
If you are sick or immunocompromised, we are happy to get your pet from the car, but please do not enter the hospital.  Please call us from the parking lot.
We would like to limit the number of people that accompany their pet into the building to help with distancing.  There are situations where you should be with your pet, if you feel comfortable, to help with communications and treatment.  We ask that you limit yourself to only one pet owner per pet in the building if possible.  (This does not apply to cases of euthanasia.)  We are practicing social distancing, so please keep 6 feet away from other people while in the hospital.  After check-in, our staff will help direct you to aid in distancing.
Echo Hollow Veterinary Hospital is here to help our community and beyond with complete veterinary care. Our hospital is locally owned by doctors that have been in this area for over 40 years.  Our goal is to help educate our community about preventative veterinary health care and provide practical solutions to the problems our pets encounter. We believe every pet owner wants the best for their animal, and we are willing to work within your budget to make this happen.
Help us serve you better!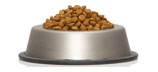 We offer a wide range of quality pet health products that can aid your pet. From special diets to medicines, ordering is simple, and your order is delivered right to your door. Click here to find out more about the products we approve and recommend.