"Caring for pets, and their people too."
COVID-19 Update
We have always placed the highest priority on being here for your pets when you need us the most.  We have continued to do that through COVID-19, though it has been challenging.  There has been a substantial increase in patients coming to us that cannot be seen by their regular veterinarian.  Understand that we are doing everything we can to find time for you.
We are following the Oregon mask mandate, but you are welcome to enter the building.  If you are sick or immunocompromised, we are happy to get your pet from the car and let you stay outside.  Please call us from the parking lot.
Echo Hollow Veterinary Hospital is here to help our community and beyond with complete veterinary care. Our hospital is locally owned by doctors that have been in this area for over 40 years.  Our goal is to help educate our community about preventative veterinary health care and provide practical solutions to the problems our pets encounter. We believe every pet owner wants the best for their animal, and we are willing to work within your budget to make this happen.
Help us serve you better!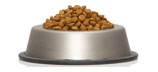 We offer a wide range of quality pet health products that can aid your pet. From special diets to medicines, ordering is simple, and your order is delivered right to your door. Click here to find out more about the products we approve and recommend.